Welcome to week 7 of The Well's Torah Reading Plan! We are finishing up Leviticus with chapters 16-27!
You can find and download the Week 7 Read-Along Guide here and the Reflection Page here!
New Tips
The Torah is MORE than worth the effort of diving into because of the way it sets up the atonement system that will point to our need for Christ's ultimate atonement on the cross! As you read books like Leviticus though, you might find yourself more often than not confused as to what all of the practices, commands, and traditions have to do with Christians who are now under the New Covenant. You will actually find that many of the authors in the New Testament are telling their stories of Jesus and the Early Church with many references to the Law because they understand their stories are just continuations of this origin story. Especially authors of books like Hebrews will focus on connecting major dots between the Law and Jesus Christ. So when you are having trouble making those connections yourself, try to get accustomed to letting the New Testament help you out!
If you are still confused after using scripture to interpret scripture, then reference your community of believers for another layer of help. This community might include believers you do life with, or even commentaries written by other believers you've never even met. For example, a main tool of reference for this week's Read-Along Guide was The Christ-Centered Exposition that does a beautiful job pointing every book of the Bible to Jesus! It is one of the top commentary series we recommend for all levels of learners at The Well. We do recommend waiting to use commentaries, such as this one, as one of your very last steps of study.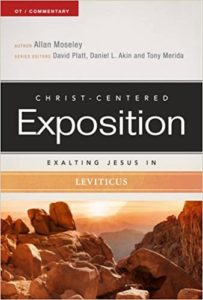 Reminders
The Read-Along Guide has notes, questions, literary elements and prayers written throughout it. This guide is not exhaustive but was created to assist you while you engage Scripture with the hopes of modeling what it looks like to do an in-depth study of a passage. Feel free to print off this guide and mark it up with your own observations and questions! 
The Reflection Page is a short document that provides some basic questions, themes, and a prayer to assist you in your study of the passage. This resource was designed to give you a quick overview of the passage to help get you started! 
Both guides were designed to be tools for you, but our main hope is that you will engage Scripture in a way that is best for you!  You can use these resources together, separate, or not at all, but we pray that you'll be encouraged as you engage the grand narrative of the gospel!
For further study of the passage, we highly recommend The Bible Project and The ESV Study Bible, as well as our general bible-study guide called How to Let the Bible Read You.